Mueller may be close to wrapping up a significant part of the Russia investigation
Hope Hicks. REUTERS/Carlo Allegr's
Special counsel Robert Mueller is getting ready to interview Hope Hicks, the White House communications director and one of President Donald Trump's closest aides.
Hicks was present during several moments leading up to Trump's decision to fire FBI director James Comey.
Mueller also asked the Department of Justice for documents related to Comey's firing and Attorney General Jeff Sessions' recusal from the Russia investigation.
Comey's firing makes up the basis of an obstruction-of-justice case Mueller is building against Trump, and experts say Mueller's document requests and readiness to interview one of Trump's key advisers indicate that the case is nearing its conclusion.
---
A report from Politico this week, which found that special counsel Robert Mueller is gearing up to interview White House communications director Hope Hicks, indicates that a significant part of the Russia investigation is likely moving into its final stages.
Hicks has long been one of President Donald Trump's most trusted advisers, and she was present during some events that are key to the special counsel's investigation.
Mueller's probe includes multiple components. In addition to looking into whether members of the Trump campaign colluded with Moscow to tilt the 2016 election in his favor, the special counsel is also investigating Trump for obstruction of justice related to his decision to fire FBI director James Comey.
As part of that investigation, ABC News reported on Sunday that Mueller has asked the Department of Justice for all emails that are connected to Comey's firing.
Mueller has also requested documents related to Attorney General Jeff Sessions' recusal from the Russia investigation. Sessions announced in March that he would be recusing himself from the probe after it emerged that he had failed to disclose his contacts with Sergey Kislyak, Russia's former ambassador to the US, during his Senate confirmation hearing in January.
Despite his recusal, Sessions played a prominent role in Comey's firing, along with Deputy Attorney General Rod Rosenstein.
Hicks was also a key presence during a number of critical moments leading up to Comey's dismissal.
Comey was spearheading the FBI's Russia investigation when he was terminated as FBI director in May. At first, the White House said he was fired because of his handling of the bureau's investigation into former secretary of state Hillary Clinton's use of a private email server to conduct government business. But Trump later told NBC's Lester Holt that "this Russia thing" had been a factor in his decision.
Then-Republican presidential candidate Donald Trump speaks with his campaign communications manager Hope Hicks in Muscatine, Iowa, on Jan. 24, 2016. AP Photo/Andrew Harnik
The biggest challenge a prosecutor faces in an obstruction-of-justice case is proving corrupt intent, which is almost always difficult to establish. But Trump's public statements bashing Comey and the investigation, as well as a draft letter he put together with adviser Stephen Miller in early May laying out his reasons for firing Comey, could change the ballgame.
"The best way to prove someone's intent is through their own words and actions," former federal prosecutor Renato Mariotti told Business Insider in an earlier interview. "fHere, you have a letter that was written by Miller, at the direction of the president, that contains what the president's thoughts were at that time."
Hicks was with Trump the weekend he and Miller drafted the letter. She was also with Trump in the Oval Office for a meeting on May 8, the day before Trump fired Comey. During the meeting, Trump described the letter that he and Miller had composed.
Though its full contents remain unclear, The Washington Post reported that it focused on what was perhaps Trump's greatest frustration with Comey: that the FBI director did not publicly announce, when he was leading the bureau's investigation, that Trump was not personally under investigation.
Mueller's obstruction-of-justice case is 'probably coming to a close'
Mueller's document requests to the DOJ and the fact that he is preparing to interview Hicks signals that he is close to concluding the obstruction-of-justice case he has been building against Trump.
"When you're interviewing people in a large-scale investigation like this, you generally start at the bottom and move towards the top," Mariotti said. "As you interview lower-level advisers, sometimes they give you information that makes you realize there are additional documents you need to obtain or interviews you need to conduct, before working your way up."
Hope Hicks, adviser to President Donald Trump, walks to her seat before the start of the daily briefing in the Brady Press Briefing Room of the White House in Washington, Tuesday, Feb. 14, 2017.AP Photo/Pablo Martinez Monsivais
Adam Goldberg, who served as a White House lawyer in President Bill Clinton's administration, echoed that point.
"Anytime you can get someone who is the right-hand person or who's been around the primary target of an investigation, under oath, answering detailed questions, means you've progressed very far along in the investigation," Goldberg told Politico.
Though the president's defense attorneys, like White House lawyer Ty Cobb, have expressed confidence that the Russia probe will conclude by as soon as the end of the calendar year, sources close to the investigation told The Washington Post on Sunday that they expect the investigation to continue deep into 2018, and possibly beyond that.
Mueller's team took over the FBI's investigation in May, when he was appointed special counselfollowing Comey's firing. Prosecutors have so far extracted a guilty plea from former Trump campaign foreign-policy adviser George Papadopoulos, who was charged with one count of lying to federal agents about his contacts with individuals who claimed to be linked to the Russian government.
In October, Mueller indicted former Trump campaign chairman Paul Manafort and his associate Rick Gates on charges of money laundering and their work as foreign agents.
Hicks' testimony could be useful for other parts of the investigation as well. In addition to being privy to Trump's thoughts leading up to his decision to fire Comey, Hicks was also with the president on Air Force One when he "dictated" an initially misleading statement that his son, Donald Trump Jr., issued in response to reports that he met with a Kremlin-connected lawyer at Trump Tower in June 2016.
James Comey. AP
The statement had to be amended several times after it emerged that Trump Jr. took the meeting when he was offered dirt on Democratic nominee Hillary Clinton as "part of Russia and its government's support for Mr. Trump."
Hicks was among the advisers who believed the White House should release a truthful statement that could not be repudiated if more details surfaced later, the Post reported. They were ultimately overruled, and the special counsel is now scrutinizing Trump's response to determine what he knew about the meeting and whether he acted to conceal its purpose.
She was also one of the campaign officials who was notified that Trump Jr. was in contact with WikiLeaks during the 2016 campaign.
"People shouldn't think of this investigation as one big indictment that's going to come out charging everyone who's involved," Mariotti said. "There are going to be pieces of it that come out bit by bit."
But for now, he added, "it looks like the obstruction of justice aspect of the case is probably coming to a close."
Washington (CNN)Investigators working for special counsel Robert Mueller are scheduled to interview additional senior White House officials in the coming weeks, adding to their list of high-profile interviews and pushing the investigation closer to President Donald Trump and his family.
On the slate are White House communications director Hope Hicks, White House counsel Don McGahn and Josh Raffel, a communications aide to White House senior adviser Jared Kushner. Other staff are also expected to be interviewed.
These three staffers have spent considerable time around the highest echelon of the Trump administration and campaign. Given their involvement in some key events under scrutiny by the special counsel, Mueller's interest in talking to them signals continued focus on Trump and the White House.
"It is my hope and expectation that shortly after Thanksgiving, all the White House interviews will be concluded," White House special counsel Ty Cobb told CNN on Thursday.
Mueller's team has already interviewed White House senior policy adviser Stephen Miller, Trump's former White House chief of staff Reince Priebus and former White House press secretary Sean Spicer. Spicer and Priebus left the White House over the summer, but they were still around when Trump fired FBI Director James Comey. Miller was also involved in the Trump campaign.
The special counsel is investigating Russian election meddling, potential collusion with Russians by the Trump campaign and potential obstruction of justice as it reacted to the probe.
Here is a breakdown of some of the interviews taking place soon, and how the White House officials facing questions might be of interest to Mueller's sweeping investigation.
Hope Hicks: The confidante
Hicks has long been seen as one of Trump's most trusted confidantes. She has served as a sounding board for the president — which could give Mueller's team insights on his thinking.
Her work for Trump intersects with the Russia investigation in a few distinct ways.
She first worked for the Trump Organization and was one of the earliest members to join his campaign team in spring 2015. She was almost always at his side on the campaign trail, and she now works from a desk just outside the Oval Office. Her profile has continued rising inside the administration, and she was elevated to White House communications director in July.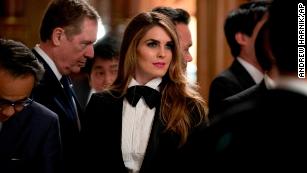 Donald Trump Jr. confirmed last week that he exchanged some private Twitter messages during the campaign with WikiLeaks, the anti-secrecy website that published damaging materials about the Democratic National Committee and Hillary Clinton's campaign during the heat of the election. After the first exchanges in September 2016, Trump Jr. informed a group of senior Trump campaign officials including Kushner over email. Kushner forwarded the email to Hicks, according to The Atlantic which first reported the story.
Trump, 71, does not use a computer, and Hicks would regularly print out articles and memos for him during the presidential campaign. Mueller's team will likely want to know if she shared Kushner's email with Trump and if there were any additional discussions about WikiLeaks.
On at least two occasions, then-Trump campaign chairman Paul Manafort emailed Hicks asking her to dismiss questions from reporters about his international dealings and his relationship with Russian oligarch Oleg Deripaska, according to the Washington Post. Manafort was indicted last month on charges stemming from his lobbying work before he joined the campaign for Russia-friendly clients in Ukraine. He has pleaded not guilty to the charges.
In his testimony before the House Intelligence Committee, former Trump campaign adviser Carter Page said he emailed Hicks and two other campaign officials before embarking on a trip to Russia in July 2016. Page insists that the trip was unrelated to the campaign, though he admitted asking campaign officials for input on a speech he delivered at a Moscow university.
Days after the election, Hicks issued denials on behalf of the campaign that haven't held up. She told The New York Times that the campaign was "not aware of any campaign representatives that were in touch with any foreign entities" during the election. And she told The Associated Press that "there was no communication between the campaign and any foreign entity during the campaign."
It was later revealed — through press reports and public acknowledgements — that several campaign officials had contacts with Russians, including Kushner, Trump Jr., Manafort, and Page, as welll as Trump campaign foreign policy adviser George Papadopoulos and Michael Flynn, who advised the campaign and briefly served as national security adviser in the White House before resigning.
Earlier this year, Papadopoulos pleaded guilty to a charge of lying to the FBI about his interactions with foreign officials close to the Russian government.
Hicks was in the Oval Office as Trump discussed firing Comey in early May, The Washington Post reported. His firing is a key part of Mueller's investigation into obstruction of justice.
She was also there when the Trump White House scrambled to respond to a bombshell report that Trump Jr., Manafort and Kushner met with a Russian lawyer during the campaign. Trump Jr.'s first response, which the president was involved in crafting onboard Air Force One, was misleading and didn't mention that the rendezvous had been arranged after he was told that it could bring incriminating information about Clinton. As The New York Times published more stories, Trump Jr. later acknowledged the Clinton angle.
That series of events, which took place largely without lawyers, opened up those White House officials to legal scrutiny and in many ways led to their interviews with the Mueller team.
Hicks' attorney Robert Trout declined to comment for this story.
Don McGahn: The lawyer
An attorney who specialized in campaign finance for many years, McGahn was the top lawyer for the Trump campaign. He was appointed White House counsel and has since had a front-row seat for a handful of issues that are now under intense scrutiny by Mueller's team.
Flynn personally informed McGahn during the transition that he was under investigation for his undisclosed lobbying for Turkey, according to The New York Times. That conversation took place in early January, and Flynn was still allowed to become national security adviser.
Things got worse after Trump's inauguration. Then-acting Attorney General Sally Yates privately met with McGahn twice, where she warned him that Flynn was subject to blackmail by the Russians because he was lying about his calls with then-Russian ambassador, Sergey Kislyak. Those White House officials repeated his lies in public, creating the compromising situation.
McGahn briefed Trump about her warnings, but Flynn stayed on as national security adviser. He only resigned after it was publicly reported that he misled senior White House officials, including Vice President Mike Pence, about his conversations with Kislyak.
Mueller's team will likely ask McGahn about the series of events that led to Flynn's resignation.
As the top White House lawyer, McGahn also played a key role in Comey's firing, and Mueller's investigators will surely pepper him with questions about the process and Trump's thinking.
In early May, Trump and Miller, the senior policy aide, had drafted a memo that detailed reasons to fire Comey, but McGahn was concerned about the letter and it was never released, according to The New York Times. Instead, McGahn edited the memo and sent it back to Trump and Miller with revisions. Mueller's team has a copy of the original draft, the newspaper reported.
After that back-and-forth, McGahn arranged for an Oval Office meeting to discuss the firing with Trump, Attorney General Jeff Sessions and Deputy Attorney General Rod Rosenstein. Sessions and Rosenstein left the meeting with a directive to prepare the legal framework necessary to terminate Comey, according to the Washington Post. Comey was fired the next day.
Josh Raffel: The PR specialist
After working with Kushner in the private sector, doing public relations for Kushner Companies, Raffel joined the White House as as a communications aide for the White House Office of American Innovation, which Kushner runs. He also handles Kushner-related press inquiries.
Raffel was involved in discussions about how to respond to the inquiries about the Trump Tower meeting. He was also aboard Air Force One when the president took part in crafting the response that was ultimately released by the Trump Organization under Trump Jr.'s name.
These discussions will likely be of interest to Mueller's team — at the very least, they could shed light on how much Trump and others knew about the meetings before learning about them in the press reports. The White House says it didn't learn about the meeting until the press reports.
businessinsider + CNN